Apple Inc.'s 78 percent surge in profit, buoyed by holiday purchases of iPads, iPhones and Mac computers, helped allay concerns about the company's prospects as Chief Executive Officer Steve Jobs takes medical leave.
Net income in the fiscal first quarter rose to $6 billion, or $6.43 a share, from $3.38 billion, or $3.67, a year earlier, Apple said yesterday in a statement. The Cupertino, California- based company also projected second-quarter profit and sales that may exceed analysts' estimates.
Sales gained 71 percent to a record $26.7 billion as customers packed stores to buy iPhone 4s, iPads and new Macbook Air laptops, all available for the first time during a year-end holiday season. Revenue would have risen more had the company been able to build more iPhones, Chief Financial Officer Peter Oppenheimer said. The results indicate that Apple will perform well even as Jobs hands day-to-day operations to Chief Operating Officer Tim Cook, said Bill Kreher, an analyst at Edward Jones.
"These results will help shift focus away from Steve Jobs's health and to the company's long-term earnings power," said Kreher, who's based in St. Louis. "Investors have become increasingly more comfortable with life after Jobs."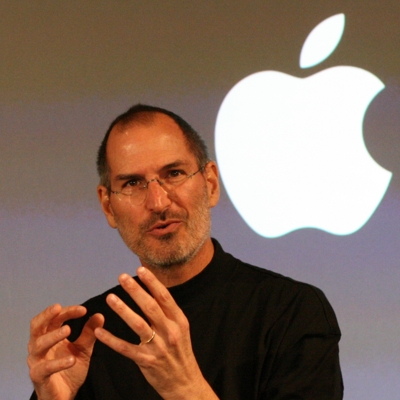 Apple gained 1.3 percent in extended trading yesterday after the results were announced. The company had declined $7.83, or 2.3 percent, to $340.65 in Nasdaq stock market trading.
Apple, whose potential U.S. customer base for the iPhone will almost double by adding Verizon Wireless as a carrier next month, said profit this quarter will be $4.90 a share on sales of $22 billion.
Beating Predictions
Analysts had predicted second-quarter profit of $4.47 a share on sales of $20.9 billion, according to data compiled by Bloomberg. Last quarter's results also topped analysts' estimates.
"Apple is doing its best work ever," Cook said on a conference call with analysts. "We are all very happy with the product pipeline, and the team here has an unparalleled breadth and depth of talent in a culture of innovation that Steve has driven in the company."
Cook, who fielded questions from financial analysts during the hour-long conference call, wasn't asked about Jobs's health or the outlook for the management structure.
Shaw Wu, who covers Apple for Kaufman Bros. in San Francisco, said analysts didn't expect Apple to say anything new if asked. He also said investors are becoming less concerned that the company will falter without Jobs at the helm.
"The investment community has gotten past it," Wu said.
Comments By Jobs
Jobs, who didn't participate in the call, said in a statement accompanying the results that, "we are firing on all cylinders."
The CEO said on Jan. 17 that he will take his third medical leave since 2004. In the e-mail released by Apple, he said, "I love Apple and hope to back as soon as I can."
In the first quarter, which ended Dec. 25, Apple sold 7.33 million iPads. Apple also sold 16.2 million iPhones, 4.13 million Mac computers and 19.5 million iPod media players. Mike Abramsky at RBC Capital Markets LLC predicted 6 million iPads, 16 million iPhones, 4.2 million Macs and 18.7 million iPods.
Apple is reaching new customers internationally and among businesses that haven't typically used its products. In China and Taiwan, sales last quarter were $2.6 billion, compared with about $3 billion for the region in all of fiscal 2010, Cook said. Companies including Wells Fargo & Co., Archer Daniels Midland Co. and JPMorgan Chase & Co. are using iPhones and iPads.
'Blowout'
"It was a blowout quarter," said Ashok Kumar, an analyst at Rodman & Renshaw LLC, who's based in Palo Alto, California. "The momentum should sustain for the next 12 months with the iPad and iPhone refresh. The uncertainty investors have to prepare for is beyond that time frame in terms of the company's ability to execute in this flawless manner and develop new markets."
The second-quarter will be the first to include sales from Verizon Wireless, the largest U.S. carrier, which will begin selling the iPhone on Feb. 10. The arrangement ends AT&T Inc.'s exclusive U.S. rights to the iPhone and adds 93.2 million potential customers for Apple.
The iPhone is Apple's top-selling product, accounting for 39 percent of revenue last fiscal year. The iPad also is becoming a bestselling product for Apple, accounting for 17 percent of revenue last quarter.
Cash Holdings
Apple also is reserving cash. Oppenheimer, Apple's finance chief, said Apple's cash, combined with short-term and long-term holdings, now equals $59.7 billion, up from $51 billion in the fourth-quarter. He said the company will spend about $3.9 billion over the next two years as a prepayment for components.
The results followed the Jan. 17 announcement that Jobs is taking a leave of absence. His health has deteriorated from a bout with a rare form of cancer and the effects of a liver transplant he had almost two years ago, according to a person with knowledge of the situation.
Jobs will continue as the CEO and will be involved in major decisions, according to his e-mail.
"I hope he comes back," said Jane Snorek, who helps oversee about $75 billion at Nuveen Asset Management and said Apple is Nuveen's biggest holding. "I don't care who they get, there's no way you can replace Steve Jobs."
Source : Bloomberg.com