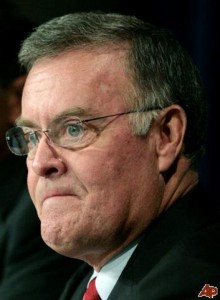 Ken Lewis, the embattled CEO of Bank of America Corp., is leaving the company, succumbing to nearly a year of strife that followed his company's acquisition of Merrill Lynch & Co.
The bank, the nation's largest by assets, said Wednesday that Lewis, 62, decided on his own to leave and would retire as CEO and also leave the company's board by the end of the year. The company did not announce a successor, saying one would be selected by the time Lewis steps down Dec. 31.
The fact that no succession plan was announced indicated that the Bank of America board did not expect Lewis' decision at this time. Nonetheless, the news, coming after shareholders had stripped Lewis of his chairman's title earlier this year, wasn't surprising because of the intense pressure he came under after the Merrill Lynch deal, including criticism about billions of dollars in bonuses given to Merrill Lynch employees.
Lewis had said he would stay on as CEO until after the company's financial problems were resolved, a process expected to take several years.
However, with the bank also under heavy criticism from government officials, Lewis was increasingly seen as vulnerable.
"He's had a big target on his chest for the whole Merrill Lynch deal, and I can only imagine the emotional stress he's endured " said Alan Villalon, senior research analyst at Minneapolis-based First American Funds, which owns Bank of America stock.
For more on this news Visit the following  link or click it
For related news on this topic, visit the following link
http://www.prnewswire.com/news-releases/ken-lewis-announces-his-retirement-62932057.html