Boeing unveiled it first 787 Dreamliner made it it's brand new factory in South Carolina. This aircraft was built for Air India. Boeing initially faced some glitches in this manufacturing plant that threatened it's 787 production target rate.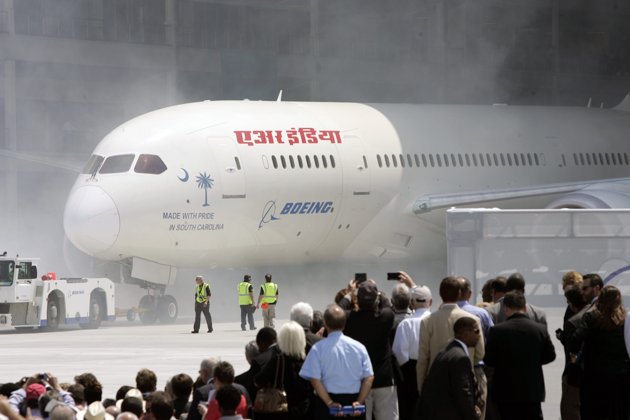 The lightweight, sleek airplane rolled off the Charleston assembly line into a sunny day, greeted by music, fireworks and the cheers of thousands of blue-shirted Boeing employees, local officials and news media.
Charleston is the second assembly line for the aircraft. The first line is in Everett, Washington. Boeing has delivered 11 Dreamliners from the Washington factory. The plane, which entered service last year, is about three years behind its development and production schedule, but demand is very high from airline customers.
"I feel great. I tell you what: Whenever you go to a new site, obviously there's uncertainty. There's risk," Jim Albaugh, the Chief Executive of Boeing Commercial Airplanes, told reporters after the ceremony.
"We came here for the people. We came here because of South Carolina. We're not disappointed at all. They've exceeded all of our expectations," he said.
The 787 Dreamliner is the first commercial airplane with an airframe made largely of carbon composites instead of aluminum. Because of its lighter weight, the plane consumes 20 percent less fuel than other planes its size on similar routes, savings that are prized by airline customers eager to tame soaring fuel bills.
Passenger comforts include large windows that allow passengers to see the horizon during flights, lighting that gradually changes to simulate the rising and setting sun, and mechanisms to dampen in-flight turbulence.
Boeing has taken more than 800 orders for the 787. The plane that emerged from the Charleston plant is bound for Air India.
Boeing, which aims to make 10 787s per month by the end of 2013, will produce three planes each month in South Carolina. The current 787 production rate is 3.5 per month, and some experts doubt Boeing can hit the 10-a-month target on time.