Walt Disney has reached a $4 billion deal to buy George Lucas's Lucasfilm Ltd, this deal is Disney's third largest acquisition in entertainment industry in the last seven years. This means the Star Wars franchise now belongs to Disney.
Disney has already taken-over Pixar and Marvel.
This deal has been materializing since May 2011 when Geroge Lucas taught Disney CEO Bob Iger how to use a lightsaber.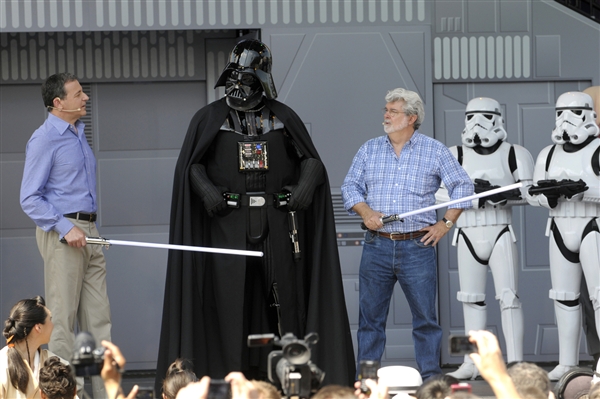 Lucas and Iger were at Disney's Hollywood Studios theme park in Orlando, Florida, brandishing the toys at the grand opening of a 3-D version of the park's Star Tours ride, Iger recalls, and "George had to show me how to use it."
Talks heated up this summer when the 68-year-old Lucas recently decided he wanted to retire from running a business to focus on smaller, more personal film projects. Iger was excited about the prospect of adding marquee properties like Star Wars and Indiana Jones to the stable of brand names he's now spent $15 billion to acquire since becoming CEO in 2005.
"We proved with our Pixar and Marvel acquisitions that we know how to expand the value of a brand," Iger said in an interview. "And brands don't get much bigger than Star Wars."
Lucas is expected to serve as a consultant while Disney revs the producer's entertainment company, which generated $550 million in operating earnings in 2005 when Lucasfilms made the last installment of his franchise, "Star Wars: Revenge of the Sith".
Lucas, in a video interview released at StarWars.com, said: "I really wanted to put the company somewhere in a larger entity which could protect it. Disney is a huge corporation. They have all kinds of capabilities and facilities, so that there's a lot of strength that is gained by this."