The Dow closed at its highest level in more than four years on Tuesday after U.S. manufacturing expanded at a faster pace than expected in April, easing jitters about a slowdown in the economic recovery.
The Dow now sits at levels not seen since December 2007. The gains leave the benchmark S&P 500 within about 16 points of a high reached in May 2008. A convincing break above that level could set the market up for more gains, traders said.
"That's where a lot of traders' eyes are right now – it might be tough to get through there the first time," said Michael James, senior trader at Wedbush Morgan in Los Angeles.
But the Nasdaq sold off sharply into the close on weakness in Apple and BlackBerry maker Research in Motion in a sign the market could struggle to make further headway in the short-term.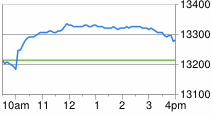 The Institute for Supply Management said U.S. manufacturing growth came in at its strongest rate in 10 months in April. That reading suggested the economy remains resilient after indications it had lost momentum at the start of the second quarter.
Early gains this year have been held in check in recent weeks on worries about U.S. economic growth.
Shares of Intel Corp , long touted by many investors as undervalued, hit a 52-week high at $29.05. Intel closed at $28.95 – up 2 percent – in a sign that money is still flowing into large-cap technology stocks as the market grinds higher.
Financial, transportation and energy shares, all of which are linked to economic growth, were strong performers. The S&P financial sector index <.GSPF> rose 1.1 percent, helped by a 2.5 percent gain in Bank of America, which closed at $8.31. Chesapeake Energy rose 6.3 percent to $19.60 ahead of the natural gas producer's earnings after the bell.
Tuesday's move higher, which came in a relatively quiet market with European exchanges closed for May Day holidays, drove the S&P 500 within striking distance of its recent high at 1,422.38.
"If we get up there, fail and don't retrace too much before the weekend, I would not be surprised to see it move through," said James.
The Dow Jones industrial average <.DJI> gained 65.69 points, or 0.50 percent, to 13,279.32 at the close. The Standard & Poor's 500 Index <.SPX> rose 7.91 points, or 0.57 percent, to 1,405.82. The Nasdaq Composite Index <.IXIC> added 4.08 points, or 0.13 percent, to 3,050.44.
The Dow earlier rose as high as 13,338.66 points, its highest since December 2007.
In April, the S&P 500 posted its first monthly decline since November as economic data pointed to a slowing domestic economy and continued flare-ups in the euro zone highlighted the risks of the region's debt crisis.
Of the 321 S&P 500 companies that have reported quarterly results so far, 71.3 percent have topped analysts' estimates, according to Thomson Reuters data through Tuesday morning,
Chesapeake, the nation's No. 2 natural gas producer, was also helped after it said it will name an independent, non-executive chairman to replace Aubrey McClendon. The company will also end a controversial program that has granted McClendon minority stakes in Chesapeake's wells.
BP Plc's profit dropped on a fall in production prompted by the sale of oil fields to pay for the Gulf of Mexico disaster. U.S.-listed shares of BP fell 1.6 percent to $42.70.
Huntsman Corp jumped 8.9 percent to $15.42 after profit nearly tripled on higher prices for its chemicals.
Health-care stocks rose, boosted by Molina Healthcare Inc , which advanced 3.5 percent to $26.54 after the company's earnings topped estimates. The Morgan Stanley healthcare payor index <.HMO> gained 1.7 percent.
PF Chang's China Bistro Inc surged nearly 30 percent to $51.48 after the restaurant chain agreed to be bought by a private equity firm.
Volume was 6.64 billion shares on the New York Stock Exchange, the Nasdaq and the NYSE Amex, below the daily average this year of 6.76 billion.
Advancers outpaced decliners by a ratio of about 2 to 1 on the NYSE. But on the Nasdaq decliners just outstripped advancers.
Source : Reuters