The economy is better ? Looks like it is to the Federal Reserve. The Federal Reserve taking into account the recent burst in employment and has concluded that the economy is heading in the right direction and decided not to do any thing to stimulate it.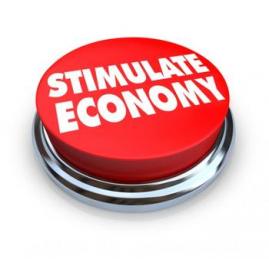 The Fed noted in a statement after its one-day meeting Wednesday that the unemployment rate has declined notably and should continue to fall. It also said strains in the global financial markets have eased, though it warned they continue to pose a threat.
Further hiring gains could put pressure on policymakers to rethink a plan to keep short-term interest rates near zero until at least late 2014.
Still, the Fed stuck with that timeframe in the statement. It said that while prices of crude oil and gasoline will push up inflation temporarily, longer-term inflation should remain stable — repeating a view expressed by Fed Chairman Ben Bernanke earlier this month.
The statement was approved on a 9-1. Atlanta Fed President Jeffrey M. Lacker dissenting for the second straight meeting. The statement said Lacker doesn't "anticipate that economic conditions are likely to warrant exceptionally low levels of the federal funds rate through late 2014."
Stocks added to early gains after the statement was released. The Dow Jones industrial average was up 110 points before the Fed statement. It climbed 20 points more within five minutes of the statement.
Since the Fed's last meeting in late January, a stream of positive economic reports has suggested the economy is doing better than the Fed anticipated.
Employers added 734,000 jobs from December through February, the best three months of hiring in two years. That's lowered the unemployment rate to 8.3 percent.
Consumers are more confident and have stepped up retail spending. Auto sales are rising. And the stock market keeps climbing.
Despite the brightening prospects, unemployment remains historically high — something Bernanke mentioned in testimony to Congress last month, when he said, "The job market remains far from normal."
Bernanke also said consumer spending and confidence remain less than healthy, inflation-adjusted pay gains are low and credit is still tight for many. As long as they are, Bernanke suggested, unemployment might not fall much further.
Bernanke's comments and remarks from other Fed officials suggest that the Fed plans to maintain its efforts to keep rates low to fuel growth.
Low rates are intended to encourage consumers and businesses to borrow and spend more. Lower yields also lead some investors to shift money out of bonds and into stocks.
Most economists don't think the Fed will retreat anytime this year from its late-2014 target for any rate increase. Some note that threats to the economy remain from Europe's debt crisis and the run-up in gasoline prices.
Eventually, the Fed will feel compelled to raise rates to curb inflation as the economy heats up. But some analysts think the Fed is reluctant to signal an eventual shift toward higher rates before it's close to a change. Signaling a change too soon might cause investors to push interest rates up before the Fed is sure the economic recovery will last.
Is the Federal Reserve making the right decision ?