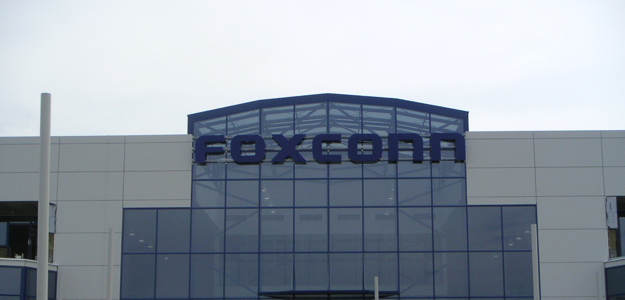 Foxconn, the Taiwanese manufacturer of Apple iPhone and electronic component supplier might just be planning to open plants in US Soil. They are eying potential locations in Detroit or LA.
Yes, you are reading this correctly, a Taiwanese electronics manufacturer wants to start a plant in US, while everyone else is running to China. All this while employees of Foxconn are committing suicide because of the low minimum wage.
The news comes via Foxconn chairman Terry Guo, who reportedly announced at a public event that not only was the company planning a training program for US engineers in which they'd be educated in Foxconn processes for manufacturing and design via trips to existing plants in Taiwan and China, but that the company is "already in discussion" with the Massachusetts Institute of Technology over partnering on the program (Guo went on to add that the exchange program will also allow the American engineers "an environment to learn the Chinese language, first-hand experience in the manufacturing process, and a training that can be helpful after they return to the US," according to a report on the DigiTimes website). Reportedly, both Detroit and Los Angeles are being looked at as potential host cities for Foxconn plants in America, with the aim of manufacturing Apple's much-rumored iTV product, making it the first Apple product to be domestically constructed in some time.
Reasoning for the potential move to the US reportedly centers around the rising labor costs in the Asian market, although the move may give some reason for pause to boosters for the American manufacturing, considering the famously low wages and poor working conditions that Foxconn has been strongly criticized for in the past, perhaps most famously in a This American Life episode that was later revealed to be "partially fabricated" (Not entirely fabricated, sadly; the influence of Apple may be improving conditions at the plants, but there are still underage kids working there – Oh, and the boss still likened his workforce to animals, so there's that.)
Foxconn is currently the world's largest maker of components for electronic equipment, with products constructed from its work including not only Apple's iPad, iPhone and iPod, but also Amazon's Kindle family, Sony's PlayStation devices, and Microsoft's Xbox 360. Although most of the complaints about the way the company has treated its factory employees have centered around its thirteen Chinese factories, the company has locations across the world, including the Czech Republic – where it is the second-largest exporter in the country – Brazil, Mexico, Japan and India.
Officially, Foxconn would not comment about whether or not it plans to open any American factories at this time.