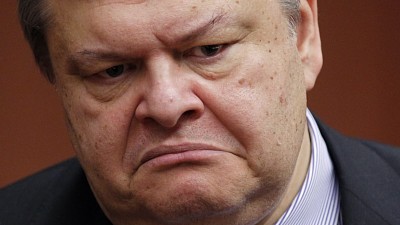 The $173 Billion bailout talks critical for Greece's survival failed after political leaders failed to accept the entire batch of new austerity measures that are demanded by creditors but have fueled outrage in the recession-hit country.
After marathon meetings with party leaders and international debt inspectors that ended about 5 a.m. (0300GMT), Finance Minister Evangelos Venizelos headed to Brussels to meet his counterparts from the other 17 euro countries, hoping to rescue the agreement and stave off bankruptcy.
"It is up to the eurogroup to decide at the highest level if the conditions are in place to proceed with the second (bailout) program," said Amadeu Altafaj Tardio, a spokesman for the European Commission, one of the three institutions charged with negotiating the rescue conditions.
Venizelos issued a dramatic plea to the coalition leaders to swiftly resolve their differences, warning that Greece's "survival over the coming years" depends on the bailout and a related debt-relief agreement with private creditors.
"It will determine whether the country remains in the eurozone or whether its place in Europe will be endangered," said Venizelos. "There is no room for any other expediency: we must look Greeks in the eye, look at the national interest and the interest of our children."
Markets nevertheless seemed hopeful that a deal will eventually be reached, with analysts suggesting the political leaders wanted to show their resistance to the foreign demands ahead of general elections later this year.
Greece's economic situation is dire — unemployment hit a record 20.9 percent in November, up from 18.2 percent in the previous month, according to the national statistics agency.
In all, more than a million people were without a job. In the 15-24 age group, unemployment reached 48 percent.
A disorderly bankruptcy by Greece would likely lead to its exit from the euro common currency, a situation that European officials have insisted is impossible because it would hurt other weak countries like Portugal, Ireland and Italy.
Without help, Greece would not have enough money to pay off a big bond payment due on March. 20, triggering a default that risks sending shockwaves throughout financial markets and the global economy.
Greece has been kept solvent since May 2010 by payments from a euro110 billion ($145 billion) international rescue loan package. When it became clear the money would not be enough, a second bailout was decided last October.
Source: Yahoo News