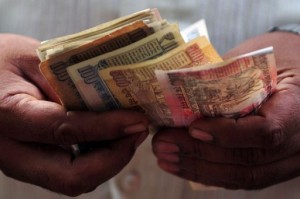 The Indian Rupee has been losing it's value at historic rates while it has been trying to stabilize itself with no positive outcome.
India's rupee sank down to 65.04 against the US Dollar, all this while the Reserve Bank of India (RBI) and the government have been in crisis management for the past several months to stop the collapse of Indian Rupee.
The Indian Rupee is the worst performing currency among the Asian nation, it has lost about a fifth of its value.
The RBI measures have failed to halt the plummet and this week the bank changed tack, announcing it would inject 80 billion rupees ($1.26 billion) into the banking system, by buying back long-term government bonds.
The move aimed at making more credit available to boost slowing economic growth raised concern in the markets about a lack of clear policy direction and prompted accusations of policy flip flop.
Expectations of an end to the stimulus have seen Western investors in recent months repatriate some of the vast sums that poured into emerging economies when it was unveiled last year, in turn hitting currencies and equities.
But India has been especially hard hit because of concerns about its large current account deficit and a possible balance of payments crisis.
Minutes from the Fed's July policy meeting released Wednesday showed board members had differing opinions on when to wind down the $85 billion a month bond-buying. Some back a "taper" as soon as next month, while others said the bank needed to see more evidence the US economy was strong enough.
Dealers said they feared the rupee could weaken further — with the 70 level not ruled out — on concerns over the US stimulus and worries that India's central bank measures would not provide enough support.