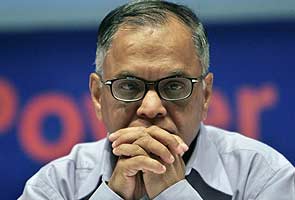 Narayana Murthy, the man credited for revolutionizing the IT industry and contributing to the growth of Indian economy, is all set to retire on August 2011. KV Kamath is to succeed him.
Calling the new structure 'a dream team', the outgoing chairman Murthy told CNBC-TV18 in an exclusive interview, "I never considered to continue being on the board till the age of 70. Infy has done the right thing in selecting such a great team."
While Kamath will be the new chief of the company till August 20, 2014, Kris Gopalakrishnan, the current CEO of Infosys, will take over as the executive co-chairman. SD Shibulal, the current chief operating officer, has taken over as the chief executive officer and managing director of Infosys.
Kamath, who has steered ICICI Bank to new heights over the past few years, Murthy, who will be chairman Emeritus said, wasn't an outsider for Infosys. "His role is to oversee governance and will work to enhance customer, employee and investor command."
In fact, the new structure has assured clear role for each individual and this will help Infosys become even bigger, he added.
The post of the chief operating officer has been left unattended. "The position is under consideration," Murthy clarified adding that the board would soon take a decision whether to retain the position or not.
Money Control goes on to add the following transcript from the exclusive interview on CNBC-TV18. Also watch the accompanying videos.
Q: We heard Jeffrey Lehman say that the decision was to actually go beyond 65 as the retirement age, as far as Infosys' top management is concerned. Why the decision not to continue to stay on till 70?
Murthy: At Infosys, we have always said that whatever decisions, we come to, will have to be come effective on a future basis.
Q: No retrospective action?
Murthy: If it was changed and I continued, it would not have looked that good. I think that's the reason.
Q: But was it never a consideration?
Murthy: No, never. We had decided pretty early in forming the company, when we did in 1981, that all directors will retire at 60 and chairman will retire at 65, as long as he or she is from Infosys. I don't think it's proper to change its mid-stream.
Q: The last conversation that you and I had, you told me that it's going to be a very emotional decision and an emotional moment for you to step down as the chairman of Infosys. In a sense you would be giving your daughter away. Infosys you consider to be your daughter. When I asked you who would be the successor, you said you would have to look for the most suitable boy for your daughter. You have got now three suitable boys that you found for your daughter. This is a problem of plenty, isn't it?
Murthy: This is almost like Draupadi's Swayamvara. We have got three extraordinary individuals who will continue to do the wonderful work that I have been doing in the past. So, therefore, I think Infosys has done the right thing. The nomination committee and the board has done the right thing in selecting such a wonderful team.
Q: Just to clarify matters Kamath comes in as a non-executive chairman and how long is the tenure for?
Murthy: We said three years starting from August 21, 2011 and ending on August 20, 2014. Then who knows. It could be three more years because remember we have changed the retirement age for the independent chairman to 70. He is still only 63, going on 64. Therefore, he still has his time.
Q: You always maintained a very stoic silence but today, this suspense is finally over. Take us through what was going through your mind over this period of 1 year and 4 months?
Kamath: This is a board decision so there is nothing that I could say at any point of time during the process when it was going on. I have shared this with Murthy right along that once I join the board I will serve it in any capacity that the board thinks it appropriate. There is no issue at all in context of what capacity I would serve. Whatever capacity the board wants I will serve it.
Finally, the decision was that they wanted me to serve as Chairman and that is something that is acceptable. There was no way that I would have known about the decision. Indeed, I would have shared the decision even if I was to know of it but I did not know it.
Q: The decision to split the chairman's role, the non-executive chairman and Kris taking over as the co-chairman and executive position, give us a sense of how the responsibilities, the allocations will be split up and will Kamath be the sounding board, the philosopher and the guide?
Murthy: As we have already announced the role of the executive co-chairman is to strengthen, of course along with the CEO, customer, employee and investor connect. As Infosys is becoming a bigger and bigger company, this is an important function. At the same time, the role of the Chairman is board governance.
Of course when you have a person of the stature of KV, obviously, he will be an enthusiastic partner in discussion of issues that are paramount to Infosys. He is part of the team. We will move forward with work loss board governance and with enhanced customer, employee and investor connect.