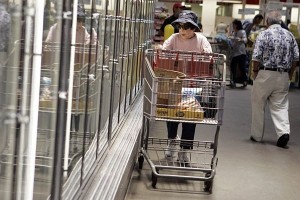 The US retailers were already reeling from the new consumer frugality but in June, incessant rain and raising unemployment further dampened sales. Stores that had made strides in recent months reverted to double-digit declines.
Overall, the industry posted  a 6.7% decline in sales for the month, in contrast  to a 309% increase a year ago, according to  the Goldman Sachs retail composite Index. Wal-Mart, which has been a bright spot in the  retailing world and helped lift the overall industry number, is no longer  reporting Monthly sales. Retailers are also facing Challenging  year-over-years sales comparisons because this June  there were no tax rebate checks to help  bolster shopping.
Apparel  and department stores  were hurt most as chilly, soggy weather on the East Coast  did nothing to inspire summer clothes shopping. Sales fell at mall stores open at least a year, a measure of retail health, including Abercrombie and Fitch (down  32% compared with the period a year ago), Zumiez (down 19.3%), Children's place and Limited Brands( both down 12%), Wet Seal (Down 11.1%), American Eagle Outfitters (down 11%) ,Gap (down 11%), and Hot topic (down 7.9%).
All the Various department Stores posted declines. In the specialty retail stores segment of Neiman Marcus, which includes Neiman Marcus and Bergdorf Goodman stores, sales fell 20.8 percent. Sales at Nordstorni declined 10%. Saks fared better than its high end competitors, posting a 4.4% decline that was in part the result of shifting a designer sale into June.
Tony Buccina, vice chairman and president for merchandising at Bon-Ton, said in a statement that while June started off robust, "the unusually cooler and rainy weather impacted sales of  our summer merchandise across all apparel categories".
The most notable exceptions to the retail malaise were, as expected, Buckle and Aeropostale, the affordably priced niche teenage apparel chains. Aerospostale said it enjoyed record June sales , posting a 12% increase. Buckle's sales rose to 9.6%. Yet these days even discount chains are struggling.
At-Costco, which was hurt by lower gasoline prices and foreign exchange rates, sales fell 6.5. BJ's Wholesale club, also hurt by lower fuel prices, reported a 7.5% decline. Sales at Target fell 6.2%
Credit goes to NYT  NEWS Services