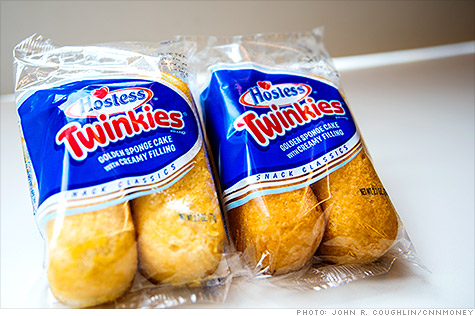 Hostess has filed for bankruptcy and the last day of shipping its iconic snack Twinkies has left people scrambling to get a last bite of Twinkies. eBay sellers started selling for as high as 95% than the actual store price.
In one Food Emporium grocery store in New York City, Twinkies were sold out by 1:30 p.m. ET. In its place, was a box of 8 Hostess Strawberry Cupcakes, sitting next to several other Hostess products.
Retailing there for $4.29 for a box of ten Twinkies, one eBay seller sold a box for $59.99. Other boxes were on sale for $100 or more.
Hostess' final shipments take place Friday, said Erik Halvorson, a spokesman for Hostess, the same day CEO Gregory F. Rayburn said it filed a motion with the U.S. Bankruptcy Court to close its business and sell its assets.
Halvorson said retail prices for Hostess products vary.
The company had filed for bankruptcy twice. The company filed in 2004 and then again in January of this year.
"We deeply regret the necessity of today's decision, but we do not have the financial resources to weather an extended nationwide strike," said CEO Gregory F. Rayburn in a statement on Friday morning. "Hostess Brands will move promptly to lay off most of its 18,500-member workforce and focus on selling its assets to the highest bidders."
The fate of the Twinkie and other Hostess products hang in the balance as Hostess winds down the company. Private equity firm Ripplewood Holdings is one of the owners. Hedge funds Silver Point Capital and Monarch Alternative Capital own Hostess' debt.