Lehman Brother forever will be remembered as the first company to fall and put the economy in free fall in the 2008 recession. New documents reveal that less than a year prior to the recession, Lehman Brothers was paying it's elite quite handsomely. Almost $700 Million to just 50 employees!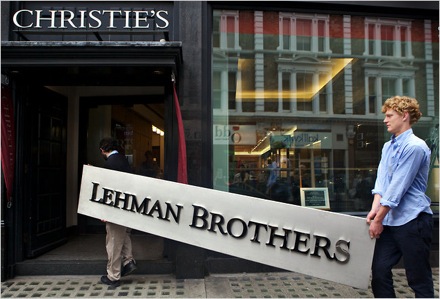 This news sure shocked everyone, even Wall St. veterans who handle more money than governments where surprised by these numbers.
The documents, which were among the millions of pages submitted in Lehman's bankruptcy, show the list of top earners each were pledged $8 million to $51 million in cash, stock and other compensation. How much, if any, of the stock was cashed in before the bankruptcy wiped out its value couldn't be determined.
Still, the rich pay packages for so many people raised eyebrows even among compensation experts and provided fresh evidence of the money-driven Wall Street culture that was blamed for triggering the financial crisis.
"Many people are going to be stunned at how well some people were being paid," said Brian Foley, an executive compensation expert in White Plains, N.Y. "This wasn't a matter of five or six people being paid a lot."
The documents were obtained by the government-appointed court receiver overseeing the firm's bankruptcy and were reviewed by The Times.
Lehman filed for Chapter 11 protection in September 2008 in what would become the largest bankruptcy in U.S. history, sparking the biggest financial meltdown since the Great Depression. The investment bank buckled after betting heavily on subprime mortgages to people with shaky credit, which became worthless as housing prices tumbled and the borrowers stopped paying their loans.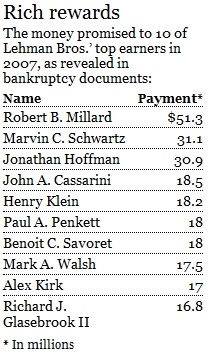 Lehman's richest pay package in 2007 went to Robert Millard, who was in line to make $51.3 million running a group that invested the firm's own cash, according to the documents. That topped the $40 million pledged to Lehman Chief Executive Richard Fuld. Millard's pay package in 2005 was $3.8 million before catapulting 1,084% to $44.5 million the following year, according to the documents.
Now running a hedge fund, Millard said he was never fully paid in 2006 and 2007. He said more than half of the compensation came in the form of stock, which was rendered worthless by the bankruptcy.
"Lehman Bros. lost a whole bunch of money doing other things," said Millard, who now leads New York-based Realm Partners.
Wall Street critics say the rich pay deals show how the short-term trading mentality had taken over the financial industry a few years ago.
"The numbers are shocking but consistent with the fact that in some ways Wall Street has been run as a casino for extracting money from the real economy and using it to pay extraordinary high levels of compensation — one might say obscenely high — to a small number of people," said Lisa Donner, executive director of the advocacy group Americans for Financial Reform.
Marvin Schwartz, a managing director in Lehman's asset management group, was second to Millard on the newly obtained list. He was allotted $31.1 million in 2007, $27 million in 2006, and $19.3 million in 2005, according to the documents. He is now a portfolio manager at investment firm Neuberger Berman.
Jonathan Hoffman, who worked at Lehman's global rates trading desk, was awarded a $30.9-million pay package in 2007, according to documents. He was promised $19.9 million in 2006 and $14.8 million a year earlier.
Schwartz and Hoffman declined to comment.
Also among the highest compensated was Mark A. Walsh, who made $70 million over three years running the firm's global real estate business. He was allotted a pay package of $17.5 million in 2007, according to the documents.
Once considered a star, his increasingly aggressive bets eventually backfired on the firm and led to more than $30 billion in bad real estate deals by 2008. He could not be reached for comment.
The pay figures outraged Lehman alumni, who have been buzzing about what they see as the excessive compensation doled out to select people.
"Even those of us who worked on Wall Street are surprised at these numbers," said one former Lehman executive who declined to be named because of the sensitivity of the matter. "We had no idea so many people were making so much money."