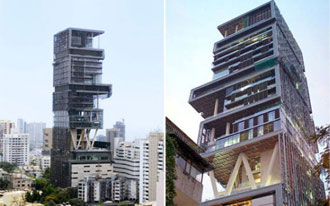 Mukesh Ambani, the richest man in India, who had built himself a paradise multistorey residence Antillia  by spending Over $ 2 billion dollar is now in the Government spotlight for allegedly buying the land for Rs 21 Crore whereas the land's total worth is  Rs 500 crore.
How the land acquisition controversy started?
In June, The state government had received a letter from the Union government, asking it to consider ' referring' the matter to the premier investigating agency to probe the land deal. The state has, however, not taken any decision on the matter yet.
On Monday, the issue was raised in the state assembly by Opposition leader Eknath Khadse.
He said the Rs 500- crore plot was shown to have been sold by the Karimbhai Ibrahimbhai Khoja Charitable Trust for just Rs 21 crore. The piece of land was originally reserved for educating children of the Khoja Muslim community.
Maharashtra's minority affairs minister Arif Nassim Khan said the state had received a letter from the Centre and had sought the opinion of the law and judiciary department.
" The legal department conveyed its opinion to the state home department on July 25," Khan said. But he did not reveal what the law department's stand was.
Khan further said a notice was served to the trust by the Maharashtra government in 2004 over the transaction. It was, however, withdrawn after the state got ` 16 lakh from the trust to regularise the deal.
Maharashtra home minister R. R. Patil said he would comment on the matter only after seeing the opinion given by the law and judiciary department.
This Waqf land deal has sparked rows earlier, too. In 2007, then minority affairs minister Anish Ahmed had mentioned a number of irregularities in the sale of the land and had asked the Maharashtra State Waqf Board to take back the plot. However, in a curious development, while the minister kept claiming the sale was illegal, then chief minister Vilasrao Deshmukh said there were no irregularities in the deal.
Incidentally, Ambani has still not started living in Antillia.