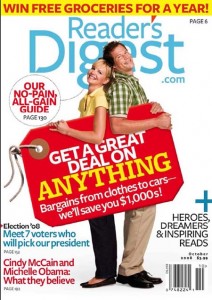 Reader's Digest Association Inc, whose namesake magazine has been a staple of dentists' offices for generations, said on Monday it planned to file for Chapter 11 bankruptcy for its U.S. businesses as part of a prearranged plan with lenders to cut debt by 75 percent.
The media company, known worldwide for its family magazine filled with general-interest and inspirational stories, has been trying to cut costs since it was bought in 2007 by an investor group led by Ripplewood Holdings LLC.
The bankruptcy would take the form of a so-called prearranged filing, which comes after a company has already reached deals with lenders to reduce debt. The deal, if approved by a bankruptcy court, would allow Reader's Digest to slash its debt load to $550 million, from the current $2.2 billion.
The arrangement would also allow the company to reduce its annual interest payments on remaining debt to less than $80 million from about $145 million, said President and Chief Executive Officer Mary Berner in an interview.
"Our deal has already been negotiated and hammered out with a majority of our creditors," said Berner. he arrangement "doesn't affect our employees, it doesn't affect the vast majority of vendors, it doesn't mean we'll do mass layoffs, it doesn't mean we're going to be selling off assets. It's business as usual."
The company expects to file its petition in bankruptcy court within 15 days, said Chief Financial Officer Thomas Williams.
The Chapter 11 filing will apply only to the company's U.S. businesses. Operations in Canada, Latin America, Europe, Africa, Asia and Australia-New Zealand will not be affected.
Reader's Digest, based in Pleasantville, New York, has said it is the largest selling magazine in the world. It has offices on 45 countries and sells books, magazines, recorded music collections and home videos. Among other offerings, it also publishes food magazine Every Day with Rachael Ray.
Reader's Digest has become the latest media company to be hurt by an economic slowdown that has hampered companies' abilities to repay debt.
Print media organizations have struggled to pay down debt over the past year as the U.S. economic recession has cut ad spending and readers have flocked to Internet sites for free
news. Newspaper publisher Tribune Co is among companies that have filed for bankruptcy.
"I don't think this (announcement) is unexpected," said
Stephanie Wickouski, co-vice chair of the corporate restructuring group for law firm Drinker Biddle. "All print media is under tremendous stress right now. The telecom revolution and the appeal of Internet news has put anything in print under tremendous stress."
DEBT RESTRUCTURING
Under the plan, the company will work with lenders to swap a portion of its $1.6 billion in senior secured debt for equity, and transfer company ownership to the lender group.
The agreement, which is subject to court approval, also includes a commitment from some members of the senior lender group to provide $150 million in debtor-in-possession financing, which would help fund operations during the reorganization.
JPMorgan Chase will lead a team of lenders offering DIP financing, said Williams. Other lenders include GE Capital and Eaton Vance, among others.
Source: Yahoo.com