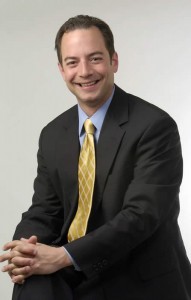 Reports are merging online that Reince Priebus has been elected as the new RNC Chairman.
According to multiple media reports, the Republican National Committee now has a new chairman with Priebus eventually getting the nod after Steele bowed out of the running. It took seven rounds of voting for Priebus, the party's leader in Wisconsin, to get the nod, the Associated Press said. Steele dropped out after four rounds, the AP said.
Priebus is 38 years old, and his term at the top is two years, so he'll be at the helm for the Republicans when they look to oust President Barack Obama from the White House in 2012.
Steele had been widely criticized for mucking up the party's finances. The Wall Street Journal estimates the organization has built up more than $20 million in debt, and said Priebus had pledged to raise $400 million to go to battle against Obama and the Democrats in 2012.
Source: thestreet.com