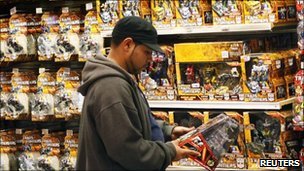 The US economy grew at a faster pace than initially thought, figures show.
The economy grew at an annualised rate of 2.5% in the July-to-September period, up from an earlier estimate of 2%, the Commerce Department said.
Earlier this month, the US Federal Reserve said it would pump $600bn (£373bn) into the economy to try to boost the economic recovery.
Stronger spending by US shoppers, particularly on cars and "big ticket" items, contributed to the upgrade.
A rise in exports also helped boost growth.
But the unemployment rate remains stubbornly high at 9.6%.
'Sales momentum'
The upwards revision was slightly bigger than analysts had forecast, with most expecting a figure of 2.4%.
The third quarter's growth marked a rise from the 1.7% seen in the second quarter.
Nigel Gault, chief US economist at IHS Global Insight, said the revision was "good news".
"It's better than expected. A little bit more momentum in sales," he said. "There was more business spending on software, that was one of the surprises, and consumer spending was better than expected.
"I thought inventories were going to be revised up, but they weren't. You had positive surprises in spending to outweigh inventories. Hopefully we can carry that momentum into the fourth quarter."
Source: BBC News