Look like the mainstream media can't ignore the protests anymore. After almost 3-weeks of protest in Wall Street, the mainstream media finally decided to write a few lines about some "small" protest in Wall Street.

All the mainstream media for some odd reason decided to shy from one of the most important news. A sit-in protest right in front of Wall Street which obviously is responsible for the financial mayhem that we are facing. While they covered all the tit-bits of happenings in the financial world creating more panic, they simply ignored a huge protest right in front of where all this was happen. Unbiased news ? Yea, at least for them.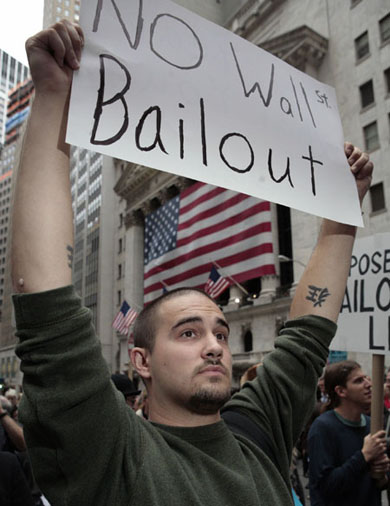 The protesters march every Saturday and of course most of them were arrested. This Saturday some 700 protesters where arrested.
Protesters are from all walks of life. Initially started by students they have now been joined by teachers, managers, labors etc.
They have a 24-hr live streaming of their protest online. It attracts some 30,000 viewers.
On Sunday, a group of New York public school teachers sat in the plaza, including Denise Martinez of Brooklyn. Most students at her school live at or below the poverty level, and her classes are jammed with up to about 50 students.
"These are America's future workers, and what's trickling down to them are the problems — the unemployment, the crime," she said. She blamed Wall Street for causing the country's financial problems and said it needed to do more to solve them.
The NYPD on Sunday released video footage to back up its stance. In one of the videos, an official uses a bullhorn to warn the crowd. Marchers can be seen chanting, "Take the bridge."
Browne said that of the most recent arrests, the vast majority had been released. Eight people were still being held Sunday, three because of outstanding warrants and five others who refused to show any identification.