The richest man in the world, Warren Buffet has revealed that he has early prostate cancer. He has been diagnosed with early-stage prostate cancer, but he tried to reassure his company's shareholders that the condition is "not remotely life-threatening."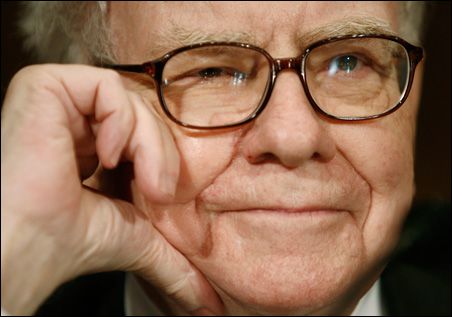 The 81-year-old chairman and CEO of Berkshire Hathaway Inc. said in a letter to shareholders that the two-month radiation treatment he and his doctors plan to start in mid-July will restrict his travel but shouldn't otherwise affect his routine.
"I feel great — as if I were in my normal excellent health," Buffett said. "And my energy level is 100 percent. I discovered the cancer because my PSA level (an indicator my doctors had regularly checked for many years) recently jumped beyond its normal elevation and a biopsy seemed warranted."
Buffett said he was diagnosed April 11 and has received tests including a CAT scan, a bone scan and an MRI. He said the tests showed no indication of cancer elsewhere in his body.
Cancer experts say Buffett's diagnosis shouldn't be a major concern because it appears his doctors caught the disease early. Still, the news will remind Berkshire investors of Buffett's mortality.
"The chance of dying of prostate cancer for Mr. Buffett in the next 10 years is probably 2 or 3 percent, so the prognosis is great," said Dr. Ralph deVere White, director of the Comprehensive Cancer Center at the University of California, Davis.
Buffett is known for a no-nonsense approach to investing. He is one of the world's richest men and, in recent years, has become one of its most generous philanthropists.
Buffett's stake in Berkshire Hathaway was worth $44.6 billion as of Tuesday's closing prices before the announcement.
Buffett told shareholders in February that Berkshire's board has chosen someone to succeed him as CEO — someday — and he said there are two backup candidates.
None of the three has been publicly identified.
Buffett has said Berkshire hasn't even told the successor and backups who they are. But he has said his son Howard, a member of Berkshire's board, would make an ideal chairman. And Berkshire has hired two hedge fund managers — Todd Combs and Ted Weschler — over the past two years who Buffett says are capable of eventually running the company's entire portfolio.