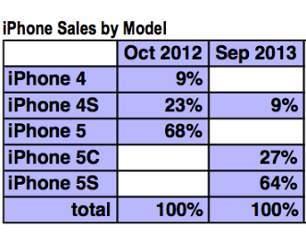 The Apple iPhone 5S is outselling the iPhone 5C which Apple introduced to capture the mid-range smartphone market. Looks like people who money always prefer the more advanced and expensive iPhone 5S rather than the iPhone 5C.
The iPhone 5S had broken all previous sales records. Apple must now be in quite a odd situation as they decide how they must react to this situation. Happy or not-happy?
The sales ratio between the iPhone 5S and the iPhone 5C  is two to one. More than double numbers of iPhone 5S models are sold till now than iPhone 5C.
According to the latest survey by Consumer Intelligence Research Partners (CIRP) that a total of 64% iPhone 5S models were sold during last days of September while iPhone 5C only accounts 27%. It means that iPhone 5S outsells iPhone 5C.
The remaining 9% sold iPhones were iPhone 4S. This survey report is based on the latest U.S. sales figures of Apple's iPhone models. But Tim Cook thinks different. He said during Apple's last earnings call, "I don't subscribe to the common view that the higher end, if you will, of the smartphone market is at its peak. I don't believe that."
But current situation shows that iPhone 5S is twice more popular than iPhone 5C during initial days of its launch despite of its higher price. What might be the reason of iPhone 5C lower sales? The one clear cut factor is its high price against its plastic body and low-end features. But will the situation remains same with passage of time? CIRP co-founder Josh Lowitz thinks that it will change.
Lowitz told AllThingsD, "The relative performance of all three iPhones is generally in line with the performance of the similarly priced phones following the launch of the iPhone 5 in 2012. Over time, the lower-priced phones have tended to gain share versus the flagship phone, after the initial rush of dedicated upgraders to the newest device. So we expect that the 5c will account for a higher percent of total U.S. iPhone sales in the coming months, but the design changes may alter that dynamic. The iPhone 5c may appeal to different buyers than the legacy 4S did last year, or the new 5s will this year."
Since Apple has introduced the iPhone 5C in quite a different market where Apple isn't a familiar name it will take quite some time to set it and start showing the numbers.