Looks like Yahoo is not happy with its financial performance. Carol Bartz was appointed as the CEO of Yahoo after Yahoo was facing financial lethargy. Yahoo was hoping Carol Bartz would turn things around.
After being the CEO for almost 2 1/2 years Bartz failed to make any significant change or impress the investors that she is sheering the company in the right direction.
To fill the void, Yahoo's board named Tim Morse, its chief financial officer, as interim CEO. Bartz lured Morse away from computer chip maker Altera Corp. two years ago to help her cuts costs. Yahoo, based in Sunnyvale, California, said it is looking for a permanent replacement.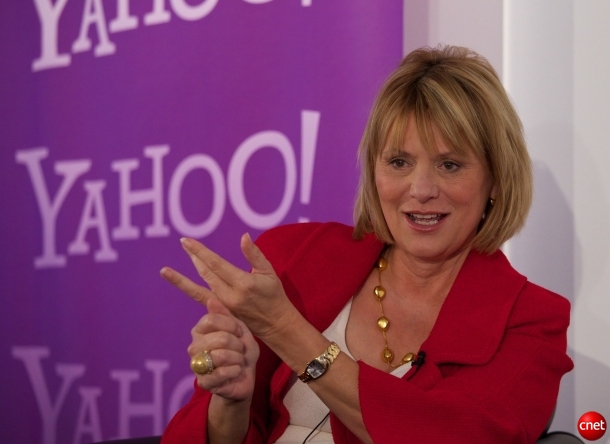 Yahoo Chairman Roy Bostock, also a target of shareholder frustration, informed Bartz about the move over the phone, according to an email the outgoing CEO sent from her iPad that was obtained by the All Things D technology blog. The blog first reported Bartz's ouster.
A Yahoo spokesman didn't immediately respond to a request for comment late Tuesday.
Bartz, 63, led an austerity campaign that helped boost Yahoo's earnings, but the company didn't increase its revenue even as the Internet ad market grew at a rapid clip.
The financial funk, along with recent setbacks in Yahoo's online search partnership with Microsoft Corp. and the Alibaba investment, proved to be Bartz's downfall. Her ouster comes with 16 months left on a four-year contract that she signed in January 2009.
That contract entitles her to severance payments that could be two to three times her annual salary and bonus, along with stock incentives she received during her tenure. Bartz received a $2.2 million bonus to supplement her $1 million salary last year.
Analysts also have speculated that David Kenny, an Internet veteran who joined Yahoo's board in April, might be a candidate for Yahoo's CEO job. Kenny is currently president of Internet networking services provider Akamai Technologies Inc.
With its stock sagging and its management in limbo, Yahoo could be more vulnerable to a takeover attempt by a private equity group or another opportunistic bidder attracted to what remains one of the Internet's best-known brands. Microsoft offered to buy Yahoo for $47.5 billion, or $33 per share, in 2008 only to be rebuffed.