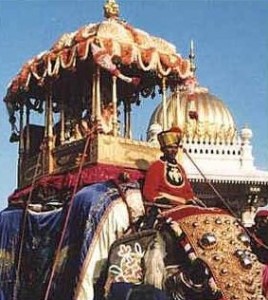 Howdah? Fishy question to come across you and when its being asked in the episode of  Who wants to be a Millionaire it becomes weird.No one for sure would have searched the web before to learn what it is. But know there are rocket of searchers online made for Howdah.
Who Wants to Be a Millionaire (also known as Millionaire) is a television game show In the United States, which offers a maximum prize of $1,000,000 for correctly answering 15 successive multiple-choice questions of increasing difficulty.Who Wants to Be a Millionaire debuted in the United States on August 16, 1999 on the ABC television network, and was hosted by television personality Regis Philbin.
And Now, what is Howdah?
Howdah or houdah is a seat or gorgeous carriage tucked  on the back of an elephant. Those seats are usually fitted with a canopy and railing, placed on the back of an elephant and also in the back of camels. Howdah is used most often in the past to carry wealthy people or for use in hunting or warfare. It was also a symbol of wealth for the owner, and as a result were decorated with expensive gems.
Now you know it right.