Ed McMahon the announcer of  NBC's late night talk show, The Tonight Show dies due to health problems. He was well know for the word  "Here's Jonny".  During his death h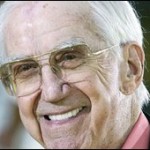 e was surrounded by his Family members.  Apart from NBC's late night talk show  Ed McMahon also worked as a host  for TV talent search.
His publicist, Howard Bragman, said McMahon died on Tuesday at the Ronald Reagan UCLA Medical Center .It was  reported that Ed McMahon died due to  Multitude of health problems. "He was a gifted artist and its  a sad mourning for us" reported by other celebrities.
McMahon was born in 1923 in Detroit, Michigan. After school he did graduation in Electrical Engineering. He went to attend National Duty for his country during world war II. McMahon was a Marine Corps fighter pilot but spent much of his service working as an instructor and test pilot. And again later he was called for the duty in Korean duty.
After the war, McMahon returned home and got his big break on ABC daytime show Who Do You Trust?. McMahon was the announcer alongside rising star and host, Johnny Carson.The pair teamed up again, four years later in 1962, this time on NBC's late night talk show, The Tonight Show. Their on-screen partnership lasted 30 years.
Ed McMahon will be remembered by all the people in the world for his contribution towards Nation and Entertainment field.