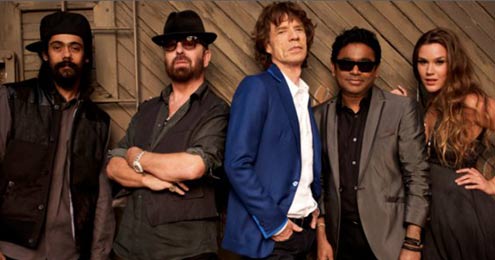 Mick Jagger has team up with Oscar-winning Indian musician AR Rahman for a new Album Superheavy which has a song sung by Mick Jagger in Sanskrit.
AR Rahman sings along Mick Jagger
The fact that AR Rahman voiced for the song has brought about a great deal of interest among Indian audience.
Rahman told Press Trust of India, "Dave said AR [Rahman] we want your voice in this album… we want this to be a great Indian song too. A long dream for me to raise one of the morals of Indian culture which is Satyameva Jayate and make it as a song"
"This is historic… it is iconic in a way. I hope people will like it," he said.
Jagger formed the band in May, saying that he "wanted a convergence of different musical styles".
"It's different from anything else I've ever been involved in," Jagger told Rolling Stone magazine .
"The music is very wide-ranging – from reggae to ballads to Indian songs in Urdu."
A wise Indian saying, whatever AR Rahman touches turns into gold. If that is true, then the SuperHeavy album is already a success.
The Album is all set to be released this September.