The Discovery show Deadliest Catch will return for an eighth season. Regular viewers of Deadliest Catch will recognize the eighth season's opening, as various ship captains arrive in Dutch Harbor, Alaska, to prepare their ships. Those viewers might also be surprised by a small change in the formula: for a minute or so, a couple of captains at their homes, saying goodbye to their families.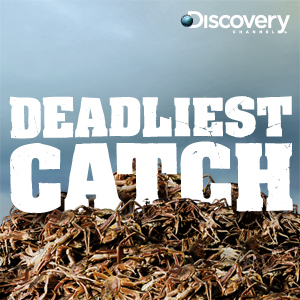 The news this year is unusually grim. The state of Alaska has cut the fleet's red crab quota in half in an effort to allow depleted fisheries time to replenish. While the captains understand the reasons for this decision, they're still hurt by it financially. On the other hand, the state's blue crab quota has been increased dramatically, providing a genuine dilemma for each boat. Red crabs live relatively close to Dutch Harbor (at least by fishing standards) and dwell in areas familiar to the fleet. Blue crabs, in contrast, are found far to the northwest in the Bering Sea, close to the Russian border. They're also smaller and more delicate than red crabs, meaning boats will have to make additional trips over the longer distance just to get the crabs back into port alive.
As the previous two seasons of the show have demonstrated, it's incredibly difficult even to find blue crabs in the first place. A typical season of Deadliest Catch will feature at least one montage for each boat when it's "on the crab," hauling in pots filled to the brim with red crabs, or, in the winter season, opelio crabs. But as boats have started making trips out to the remote blue crab grounds, viewers haven't once seen that kind of montage. Typically, the boats struggle even to haul in a dozen crabs per pot, which makes for a long, exhausting grind. Catching blue crab is inevitably a challenge.
A mix of the soap opera-style storylines and real life dangers has helped to make Deadliest Catch Discovery's most popular show. The push-pull between the Northwestern's gruff captain Sig Hansen and his younger brother and deck boss Edgar has been going on for years. Edgar had been on the verge of retirement for several years before finally quitting last season. But this year finds him right back on the boat, as he admits the land-based job he took in the interim wasn't fulfilling emotionally or financially. On the flip side, Keith Colburn's brother and right-hand man Monte is forced to sit out this season due to shoulder surgery. Keith admits this is a heavy blow, especially since he is preparing to fish for blue crab for the first time in 14 years.
In the show's most dramatic ongoing subplot, brothers Josh and Jake Harris still struggle in the wake of the death of their father, Phil Harris. Last season, they tried to keep their father's boat, the Cornelia Marie, in the water and catching crabs with a pair of interim captains. The results were often painful to watch, as the boys, now part owners of the boat, attempted to pull rank on their captains despite not having the practical fishing knowledge needed to run the boat themselves. It comes as little surprise, then, that the Cornelia Marie remains docked in Seattle this year while Josh and Jake find themselves, respectively, working as deckhands on the Time Bandit and the Northwestern.
Once again, the crews of these two boats provide the expected prank, and while it doesn't hold a candle to the truck prank, it's still a lot of fun. The show's formula also includes an assortment of close calls and hijinks. The Wizard has a long history of hapless greenhorn deckhands, and second-year man Danny Mackie joins that list in dramatic fashion. First he shows up drunk to help load pots, and once the boat is at sea, he's nearly clobbered by a swinging thousand-pound crab pot.
This combination of fun and risk has become a model for other "Men doing difficult work under extreme circumstances" shows, a formula spread by creator Thom Beers across cable TV. But it still works best on Deadliest Catch.
Source : Popmatters.com