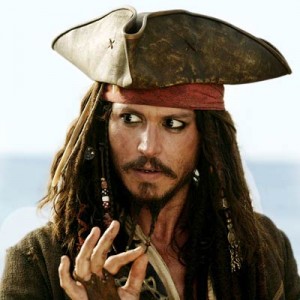 Avast Disney has announced that  " A new film of   Pirates of the Caribbean will be released on 2011″. This new  release of the Disney has caused a volcanic buzz among the fans that were gathered around.
Boy, i thought the pirates series is finished after the last movie "Pirates of the caribbean: At world's  end"
We can once again see Johnny Deep as  Capt. Jack Sparrow in the upcoming pirates titled "Pirates of the Caribbean: On Stranger Tides".No word yet on whether all the crew that acted the first three pirate series will be present in the latest film or not.
Meanwhile  Johnny Depp  did a play for the fans  gathered there. He wore himself with capt. Jack Sparrow dress and acted for few lines
" Arrrrgh, where is the rum"
In his presentation of upcoming Disney films, Cook also announced that Depp would play Tonto in an upcoming big-screen adaptation of "The Lone Ranger."