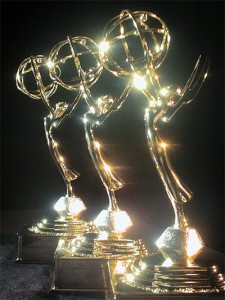 The Emmy Nominations 2009  awards is to be held today..Yep, the hard work of all the TV actor and actress  is to be recognised today.
Now who wins what this is the biggest buzz.  Nearly all of the websites online are predicting their guess on who will win what for nearly a month.
The decider for who holds the crown is today!!!
The award categories has been broken down to various categories that  include, Best Drama, Best Comedy, and Lead Actor and Actresses.
The 61st Primetime Emmy Awards will air on CBS today at 8:00 Eastern and 7:00 Central standard time.
The nominations for each category is as follows
Outstanding Comedy Series
ENTOURAGE
FAMILY GUY
FLIGHT OF THE CONCHORDS
HOW I MET YOUR MOTHER
THE OFFICE
30 ROCK
WEEDS
Outstanding Drama Series
BIG LOVE
BREAKING BAD
DAMAGES
DEXTER
HOUSE
LOST
MAD MEN
Outstanding Reality Competition
THE AMAZING RACE
AMERICAN IDOL
DANCING WITH THE STARS
PROJECT RUNWAY
TOP CHEF
Outstanding Lead Actor in a Drama
Brian Cranston, BREAKING BAD
Gabriel Byrne, IN TREATMENT
Michael C Hall, DEXTER
Hugh Laurie, HOUSE
John Hamm, MAD MEN
Simon Baker, THE MENTALIST
Outstanding Lead Actress in a Drama
Kyra Sedgwick, THE CLOSER
Glenn Close, DAMAGES
Mariska Hargitay, LAW & ORDER: SVU
Elisabeth Moss, MAD MEN
Sally Field, BROTHERS & SISTERS
Holly Hunter, SAVING GRACE
Outstanding Lead Actor in a Comedy
Jermaine Clement, FLIGHT OF THE CONCHORDS
Steve Carell, THE OFFICE
Alec Baldwin, 30 ROCK
Jim Parsons, BIG BANG THEORY
Tony Shaloub, MONK
Charlie Sheen, TWO AND A HALF MEN
Outstanding Lead Actress in a Comedy
Christina Applegate, SAMANTHA WHO
Toni Collette, UNITED STATES OF TARA
Tina Fey, 30 ROCK
Julia Louise-Dreyfus, NEW ADVENTURES…
Mary Louise Parker, WEEDS
Sarah Silverman, THE SARAH SILVERMAN SHOW
Outstanding Supporting Actress in a Drama
Cherry Jones, 24
Rose Byrne, DAMAGES
Sandra Oh, GREY'S ANATOMY
Chandra Wilson, GREY'S ANATOMY
Dianne Wiest, IN TREATMENT
Outstanding Supporting Actor in a Drama
Christian Clemenson, BOSTON LEGAL
Michael Emerson, LOST
William Hurt, DAMAGES
Aaron Paul, BREAKING BAD
William Shatner, BOSTON LEGAL
John Slattery, MAD MEN
Outstanding Supporting Actor in a Comedy
Jon Cryer, TWO AND A HALF MEN
Kevin Dillon, ENTOURAGE
Tracy Morgan, 30 ROCK
Jack McBrayer, 30 ROCK
Neil Patrick Harris, HOW I MET YOUR MOTHER
Outstanding Supporting Actress in a Comedy
Kristin Chenoweth, PUSHING DAISIES
Jane Krakowski, 30 ROCK
Elizabeth Perkins, WEEDS
Amy Poehler, SNL
Kristin Wiig, SNL
Vanessa Williams, UGLY BETTY
Outstanding Music, Variety, or Comedy
The Daily Show
The Colbert Report
The Late Show with David Letterman
Real Time with Bill Maher
Saturday Night Live
Made-for-TV Movie
Coco Chanel, Lifetime
Grey Gardens, HBO
Into the Storm, HBO
Prayers for Bobby, Lifetime
Taking Chance, HBO
Actor, Miniseries or Movie
Kevin Kline, Cyrano de Bergerac, PBS
Brendan Gleeson, Into the Storm, HBO
Ian McKellen, King Lear, PBS
Kevin Bacon, Taking Chance, HBO
Kiefer Sutherland, 24: Redemption, Fox
Kenneth Branagh, Wallander: One Step Behind, PBS
Actress, Miniseries or Movie
Chandra Wilson, Accidental Friendship, Hallmark Channel
Shirley MacLaine, Coco Chanel, Lifetime
Drew Barrymore, Grey Gardens, HBO
Jessica Lange, Grey Gardens, HBO
Sigourney Weaver, Prayers for Bobby, Lifetime
Supporting Actor, Miniseries or Movie
Ken Howard, Grey Gardens, HBO
Len Cariou, Into the Storm, HBO
Bob Newhart, The Librarian: Curse of the Judas Chalice, TNT
Tom Courtenay, Little Dorrit, PBS
Andy Serkis, Little Dorrit, PBS
Supporting Actress, Miniseries or Movie
Marcia Gay Harden, The Courageous Heart of Irena Sendler, CBS
Jeanne Tripplehorn, Grey Gardens, HBO
Shohreh Aghdashloo, House of Saddam, HBO
Janet McTeer, Into the Storm, HBO
Cicely Tyson, Relative Stranger, Hallmark Channel