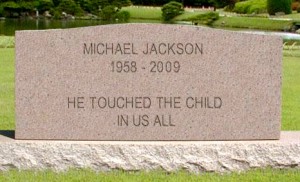 Fans dedicated their message to Michael Jackson by writing in his tomb at the Forest Lawn Cemetry Memorial in Glendale, California.
The words found in the tomb were "Miss you Sweet Angel" and "keep the dream Alive".
This is touchy as well as sad. Touchy is the word which i refer for their love towards the great.
But, out of emotion fans just scribble in the tomb of MJ  which is sad.
What can one do to prevent themselves from grief? They have to show how they care. In this sense, the fans have shown their love to MJ.
Due to this act, it just helped the security to go higher. Yep, its being confirmed by a source on the amount of  security to be increased at the entrance of Great Mausoleum.
No matter how much security is being added , this type of incident is bound to repeat again.