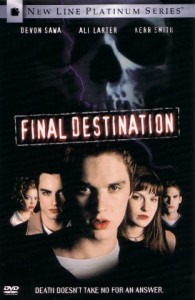 Tagline:                 No Accidents. No Coincidences. No Escapes. You Can't Cheat Death.
Genre:                     Horror, Thriller
Release date:      September 2000
Plot:                         After the survival of  a brutal flight accident, each of the survivors begin to die terrifically
Parent Guide:    Rated R for the violence and terror
Movie Review:
If  your a horror loving person, this is the type of movie you cannot miss. This movie is entirely different from other type of Horror and Thriller movies.
The Movie starts with  High School students and Teachers who are about to Journey to Paris concerning their School trip. One of the Student Alex Browning in the plane has a mysterious sight of the plane getting exploded in the air. He freaks out in fear and finds that it didn't happen. He urges everyone and shouts mentally about what he saw, the plane officials thinking him of peace destroyer kicks him and few of his friends out of the plane.
Wonder what, the thing they all called insane did happen with the Plane 180 exploding in the Air after few seconds take off. Alex later learns that what he saw as a dream is actually a premonition. Premonition is the ability of knowing things before it actually happen. Days passes by with every member of school thinking Alex as some sort of  forbidden thing and police keeping a watch in Alex thinking of him having a hand in the flight accident.
It all goes well until one day  a survivor of Flight 180 dies mysterious. This incident disturbs every person in the  place. Within a day, another Survivor dies leaving police and others dumb. All the incidents points towards Alex as he murdered the student which leaves Alex with no choice but to involve in the investigation himself. Alex investigates the cause and finds out with a stunned look that  the survivors of Flight 180 being to die in the order if they had died in the plane crash.
Whats horror is, the pain in their face when they find out that Death itself is after them and there is no escape. The movie  did give everyone the fear and power of Death and everyone has to taste it in their turn.What I really liked about it was that Death never showed itself and that it turned simple everyday items into murder weapons.
Feel Free to Comment on this.