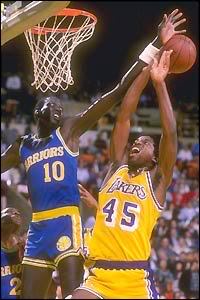 Manute Bol, the dominant shot blocker from Sudan who played in the NBA for 10 seasons, died on Saturday at the age of 47.
A spokeswoman for the University of Virginia Medical Center told Reuters he had died but would not disclose the cause of death.
According to media reports he was being treated at the Medical Center for severe kidney trouble and a painful skin condition.
Bol, who played for Washington, Golden State, Philadelphia and Miami, finished his career in 1995 in second place on the all-time blocks per game list with 3.3.
The 7-foot-7 center was one of the tallest players in the NBA. When his career ended he became involved in charity work for Sudan.
"He was a person who was continually giving of himself through his generosity and humanitarian efforts in order to make the world around him a much better place," Philadelphia 76ers president and general manager Ed Stefanski said in a statement.