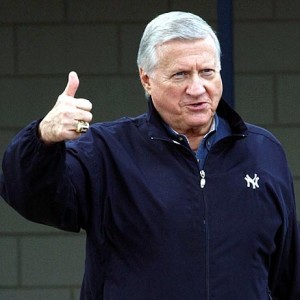 George Steinbrenner has died.
"It is with profound sadness that the family of George M. Steinbrenner III announces his passing," the family said in a statement released this morning. "He passed away this morning in Tampa, Fla., at age 80. He was an incredible and charitable man. First and foremost he was devoted to his entire family – his beloved wife, Joan; his sisters, Susan Norpell and Judy Kamm, his children, Hank, Jennifer Jessica and Hal; and all of his grandchildren. He was a visionary and a giant in the world of sports. He took a great but struggling franchise and turned it into a champion again."
Steinbrenner turned 80 years old on July 4 and as recently as Friday he was at the Yankees minor league complex in Florida where he told an Associated Press reporter he was "feeling good."
The family has said funeral arrangements will be private, but there will be an additional public service with details to be announced at a later date.