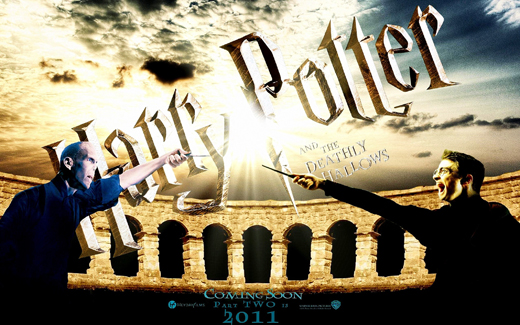 Harry Potter, the boy who lived, has now became a man with the dead of Voldemort in the epic finale "Harry Potter and the deathly hallows part 2″.
After seeing the epic clash myself, i would bring you the details of the clash and how the death himself took Voldemort away.
Harry Potter and the Deathly Hallows part2  Review
The movie began with the same chill and suspense as it was in the Part 1 of the Harry Potter and the Deathly Hallows movie.
I would tell you readers, not to expect everything that was in the book. The movie which had all the essence to justify a Potter climax, doesnt follow the book entirely.
Coming back to the movie, Harry Potter meant business as he went straight away to Gringotts to destroy the   horcrux.
The connection between Harry Potter and Voldemort's mind was pictured  very clearly in this finale. Every time Harry destroyed Horcrux both he, and Voldemort felt the pain.
It was clear that Voldemort knew what Harry was hunting down after the Gringotts breakdown.
After learning Harry is in Hogwarts, he takes the death eaters and comes back to Hogwarts to try and kill Harry Potter.
And then it began!
Clashes, Death, Battle, Cries, everywhere in Hogwarts.
Neville was the star of the battle as he confronts Voldemort and takes down Nagini with Gryffindors sword.
Now, heres a thumbs down from me, When Voldemort died, they didnt show any celebrations at all.
Che, that was very annoying. Really annoying. You can only hear celebrations from the theater audience.But not from Hogwarts inmates.
Minus the above comment, the movie was very cool.
Snape story was superbly handled and justified. I am sure , many of you readers must have the same opinion as me, but some may be disappointed as the script writers deleted many part of Snapes story
The conversion between Harry and Dumbledore at the Kings Cross was very boring though.  Dumbledore failed to explain the cause of her sister's death.
Thats what confused me. In the movie, we saw Aberforth Dumbledore telling Harry how Dumbledore is a man of  secrets. But we failed to get answers from Dumbledore in King cross.
In the end, the movie is a must watch.
P.s: Please try to know the basic of Harry Potter and what he is going after from a Potter fan  and then go to the theatres.
You will enjoy it.
I rate the movie 10 out of 10.
Good Bye, Mr. Potter!