Whats this! Heh, something has gone wrong isnt it. The Harry Potter cast along with Emma Watson, Daniel Radcliffe and Rupert Grint have been called back to re-shoot Harry Potter and the deathly hallows part 2  climax.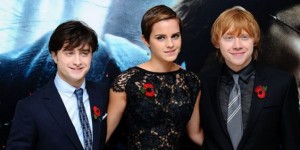 But why? What went wrong?
According to The Sun, make-up artists made the young stars look elderly rather than middle-aged as they went overboard with ageing special effects.
Now that means Watson, Daniel Radcliffe and Rupert Grint will be seeing each other again!
Great!
The trio who all openly admitted to breaking down in tears while filming the emotional finale are reportedly happy to be seeing each other again.
Our sources say 'They had all said an emotional goodbye to the filming they loved, so it was good news for them as they heard they had to come back.
'Their bosses haven't been laughing, though. They had to recreate King's Cross at Leavesden, which has been a huge expense. The professional term for the re-shoots is 'pick-ups' but everyone knows it's a bit more serious than that. It will be extremely costly.'
Watson recently marked the end of the Harry Potter franchise by lopping off her shoulder-length locks into a stylish pixie crop.
Watson needs a wig now to complete the scene. lol! This leads to additional overload for the makeup guys.
Alas, the perfection of the movie is more important then additional work.
I think it will just be fine for them to recreate the Emma hair style as well as the movie magic.
The final Harry potter and the deathly hallows to hit screens on 15, July 2011