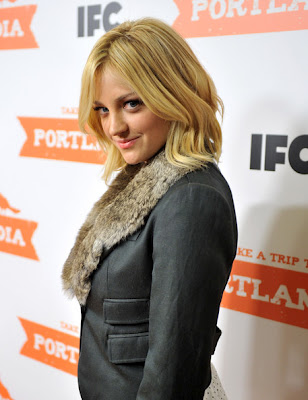 Abby Elliott has quit "Saturday Night Live". As reported by The Warp, Abby Elliot is leaving the show. The reason why she is quit is not clear year. NBC has declined to comment on this.
She was cast in the lead of the Fox pilot "Ned Fox Is My Manny" but cut after a table read. The series, now called "Ben and Kate," cast Dakota Johnson in the role.
Elliott's film roles include "High Road" and "No Strings Attached."
Andy Samberg and Kristen Wiig have also left the show, and Jason Sudeikis' fate is up in the air.
So what will she do now? During pilot season, she was cast as the female lead in the Fox sitcom Ben and Kate. Unfortunately, she was replaced with Dakota Johnson after the first table read.
Elliott has done some film work, so maybe that's her next step? She previously appeared in High Road and No Strings Attached.
She's the third performer to leave SNL following Kristen Wiig and Andy Samberg. But their exits weren't as shocking as they were expected. Last year, Wiig had critical and commercial success with the comedy Bridesmaids. She even earned an Oscar nomination for best original screenplay.
With three down, how many more to go? Jason Sudeikis, who's also done well on the big screen is someone to watch. He recently told the Los Angeles Times, "I'd like the opportunity to use creative muscles that … haven't been asked of me for the first nine years that I've worked there." In other words, he's getting restless.