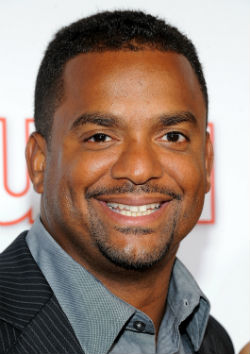 Fear not, "Fresh Prince of Bel Air" fans — Alfonso Ribeiro is not doing the Carlton dance in heaven. The actor, best known as Will Smith's dorky cousin on the '90s sitcom, is alive and well — and the latest victim of an Internet death hoax.
Much like Morgan Freeman before him, a Facebook page expressing sadness over the actor's death went viral. One problem — he's not dead. Ribeiro, who was out on the town on Thursday after the 2012 MTV Video Music Awards, tweeted fans to assure them that he's still with us here on Earth.
"I guess FB has a page saying I died. I wonder what people are gonna say at my funeral???" ponders the actor, later telling pal Joey fatone that he would make sure to inform him if he actually dies. "I'm gonna make sure I let you know first. Lol."
We'll reiterate the question we posed after Morgan Freeman's hoax: What kind of satisfaction do you think people get from starting one of these rumors?!