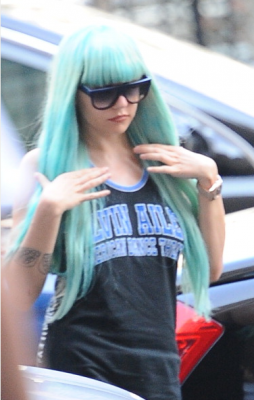 Amanda Bynes arrived in court this morning to face charges of reckless endangerment, tampering with physical evidence and possession of marijuana. Facing all these alligations she appeared rather cool headed with an Aqua Blue wig.
Amanda's lawyer confirmed to us that is is fine and there is nothing is wrong with her.
Bynes, 27, was arrested after allegedly throwing a bong out of a window in her Manhattan apartment. (She denied ever having a bong.) After the arrest, Bynes accused an NYPD officer of sexually harassing her, though after an investigation, the department concluded that there was no wrongdoing.
She remained silent in court and the judge postponed the hearing until Sept. 26, The Associated Press reported.
In recent weeks, Bynes has become more focused on her appearance, even claiming that she's had reconstructive surgery.
Earlier this morning, she claimed that more surgery is in her future.
"My Surgeon Broke My Nose During My Surgery But Hasn't Finished My Nose! It's Still Broken And I Can't Breathe!" she wrote. "I Hate Taking Pictures With A Broken Nose."
What is really happening with these child stars? Why do most of them end up spoilt? Even the ones that show no signs of becoming one??