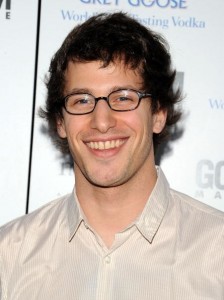 Andy Samberg is leaving "Saturday Night Live."
The comedian confirmed his exit, which had been speculated about for months, in an interview with The New York Times late Friday.
"Obviously it's not a huge shock, but I did officially decide not to come back," he told the paper.
Noting that this is an "incredibly emotional and strange moment in my life," Samberg went on to explain that his contract with the NBC series was up and he felt ready to move on to something new.
His "SNL" co-star Kristen Wiig, who received an emotional send-off on last month's season finale, "kept saying it just feels like it's her time," and he admitted to feeling similarly.
"I connect with that. Something about it just feels like it's the moment," Samberg told the Times.
In his nearly seven years on the show, Samberg said he "did so much more than I ever thought I would ever even do," including a follow-up to his wildly successful "Lazy Sunday" sketch.
And though leaving is "one of the hardest decisions I've ever made," the That's My Boy star said he would definitely be open to guest appearances in the future.
"That's the kind of thing that I really do hope happens," he told the paper.
What do you think of Samberg leaving "SNL"?
Source: GossipCop