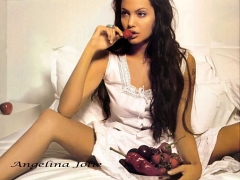 A little birdy has been telling us that Angelina Jolie is currently in talks to direct the movie Fifty Shades of Grey while everyone believed that she was to play the lead female role.
But why would Angelina Jolie want to direct a movie now? Well, she has been eying for the role for sometime now.
Reports seems to indicate that Universal Pictures are looking at Angelina Jolie as a potential Director for the movie "Fifty Shades of Grey" which is going to be an adaption of the book by E L James.
But, there are also reports that Angelina Jolie has not been officially approached yet.
Jolie is currently working (as an actor) on the highly-anticipated Disney film, Maleficent, and it's likely someone else will wind up being tasked with the Fifty Shades of Grey adaptation.
If any conversations have been had about the Fifty Shades directing gig — they have not been formal talks or negotiations with Jolie.
We believe this to be just rumors and nothing more. Well, there will be lot more till official information comes in to crush them.