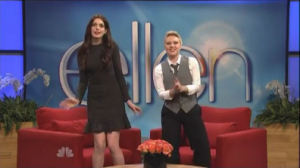 Anne Hathaway has done it again, this time she did an impression of Katie Holmes on "Saturday Night Live" in a parody of the show "Ellen".
Hathaway played Holmes in a sketch that parodied "Ellen," complete with the talk show host dancing, featuring her favorite two British kids, Sophia Grace and Rosie, and even pulling a prank.
In the skit, "Holmes" talked about how she and her daughter Suri go to the zoo "every waking moment," how the paparazzi are just "doing their jobs," and her acting.
WATCH: