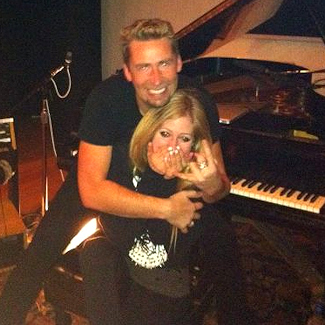 This will be the ultimate heavy-metal marriage. Musician Avril Lavigne is now engaged to Chad Kroeger, who is also a musician and a member of Nickelback.
Seemingly conspiring to exploit their remaining pop-culture relevance to form a strategic alliance of Canada's radio-rock royalty, Avril Lavigne and Nickelback frontman Chad Kroeger announced their engagement yesterday, before many even knew they were dating.
Lavigne, who was previously married to Sum 41's Deryck Whibley and in a relationship with Brody Jenner, met and became close to Kroeger as they worked on material for her new album. So far the couple's only public comment on the relationship has been Avril retweeting a congratulatory message from the other members of Nickelback—the 21st Century pop-star version of a formal engagement announcement.
Nickelback recently released a bizarre video for a new single inexplicably staring Seinfeld's Jason Alexander. And Lavigne says the material for her fifth studio album will have a lighter, more fun pop tone, which makes sense seeing as if there's one person you'd want to go to for really watered down rock music, it'd be the guy from Nickelback. As long as there's no monster-ballad duet coming to destroy us all, we congratulate you!