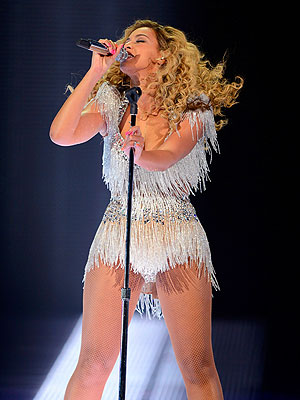 For the first time since giving birth, Beyonce has returned to the stage. Beyonce made her return to the stage on Friday performing for the first time time since giving birth to her daughter Blue Ivy in January.
Beyonce, now Mom is helping to lunch the Ravel Resort & Casino in Atlantic City, New Jersey. She will be performing a four-night stand this Memorial Day weekend.
Beyonce though now has become a mother has continued to tell media that it is important for her to return to her "old job". Now she is back!
After an opening set by R&B singer Luke James, Beyonce hit the stage at about 10:00 p.m. and performed for two hours, belting out hits including "Single Ladies (Put A Ring On It)" and "Run The World (Girls)."
There were reportedly five costume changes and interstitial home movie-style videos in between songs.
Beyonce's husband, Jay-Z, was sufficiently impressed.
He tweeted, "'I'm gonna say this and then I'm gonna end mine.' BEYONCE is the best performer in the world. Period."
Watch Beyonce, now mom performing: