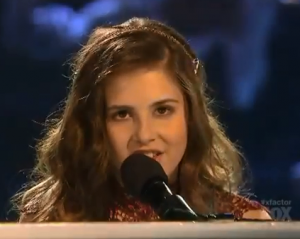 Carly Rose Sonenclar stunned everyone with her performance of "Imagine" on X Factor. Carly Rose has just sealed her position as the frontrunner.
It is really surprising to see a 13-year-old with so much talent.
Carly Rose, 13, played the piano as she sang John Lennon's "imagine" with her beautiful voice and amazing delivery left everyone simply stunned.
"What I love is that you've taken your artistic credibility up one notch by playing the piano," L.A. Reid told her, also commending the difficult song choice.
"You always go in and find that [high] note, don't you?" he added.
Demi Lovato, who earlier in the episode worried about Sonenclar becoming predictable, declared, "The only predictable thing about that performance was that it was going to be amazing."
"[You] sounded really beautiful," she continued. "Loved that you took a risk."
And while Simon Cowell thought the arrangement was "overcomplicated," Sonenclar's mentor Britney Spears disagreed.
"It is time for you to go beyond this stage and compete with the biggest stars in the world," she told her contestant.
Check out the video of her performance below: