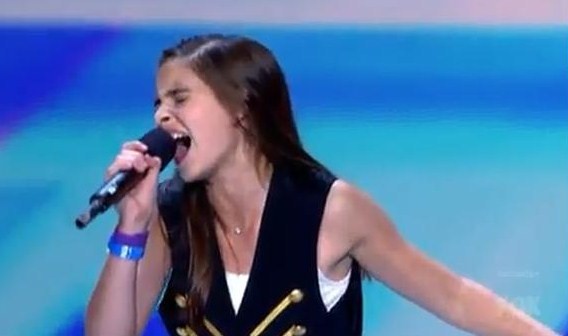 13-year-old Carly Rose Sonenclar got a standing ovation from the entire panel of judges and audiences for her performance on Thursday's X Factor.
The petite 13-year-old stunned the judges and audience with her mature-beyond-her-years take on Nina Simone's "Feeling Good."
The sultry rendition earned Sonenclar the very first standing ovation from all four judges this season.
Britney Spears was the first to dish out some serious praise, saying, "Miss thang, you are a little diva! You were unbelievable. You can see all of us are completely in love with you."
L.A. Reid noted that Sonenclar "may be 13, but your soul is old," and Demi Lovato said she was ready to buy the teen's music "right now."
And Simon Cowell found himself in utter disbelief.
"That's not you singing," he told Sonenclar. "Somebody is behind you singing that song."
He went on to add, "A star has just walked out on that stage. "
Needless to say, the judges unanimously voted Sonenclar through, with Cowell saying she earned "4,833″ "yes" answers from everyone in the arena.
Watch Carly Rose Sonenclar performance below:

Carly Rose Sonenclar, 13. Auditions Day2 ~ The X… by HumanSlinky