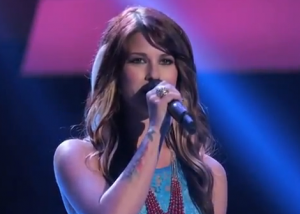 Cassadee Pope stunned The Voice judges with her magnificent performance of Natalie Imbruglia's "Torn." All four judges were stunned and no one dare look the other way after her performance she started singing.
We got the video of her performance for you

Cassadee Pope was so happy and overwhelmed by the judges' positive response that she broke down in tears when she was done with the song.
Fun fact: Her band Hey Monday once toured with Fall Out Boy.
Cassadee Pope ultimately decided to choose Blake Shelton's team — and he was extremely excited about his new protégé.
Watch the video of her amazing performance below: