"Christina Aguilera's diva behavior starts before the 'Dirrty' singer even arrives on the set of 'The Voice,'" begins a piece from RadarOnline, regurgitating a recent tale from its esteemed sister publication, Star.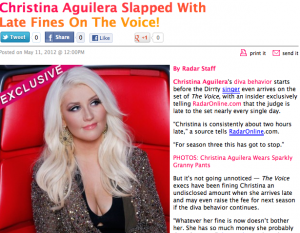 A so-called "source" for the webloid says Aguilera is "consistently about two hours late," noting that "for season three this has got to stop."
The site further claims that show executives "have been fining Christina an undisclosed amount when she arrives late and may even raise the fee for next season if the diva behavior continues."
The same alleged insider explains, "Whatever her fine is now doesn't bother her," adding, "Higher-ups on the show want to raise it to a number that does bother her so she actually arrives on time."
Right.
There's just one small problem with this story.
As Gossip Cop has continually pointed out every time RadarOnline and Star run a piece claiming Aguilera is a nasty diva on the music competition: If she's so awful, why doesn't NBC just fire her?
If Aguilera is really causing trouble on the show — so much so that the network has to fine her — why was she asked back for seasons two and three?
It just doesn't make sense.
NONE of these claims are true.
A source close to Aguilera calls the story "totally false," telling Gossip Cop, "It is a live show and she has never missed it. Coaches are free to arrive at anytime as long as they make the live shows."
And a spokesperson for "The Voice" corroborates, "There is no truth to the report."
Once again, RadarOnline's reporting is not "fine."
Source: GossipCop