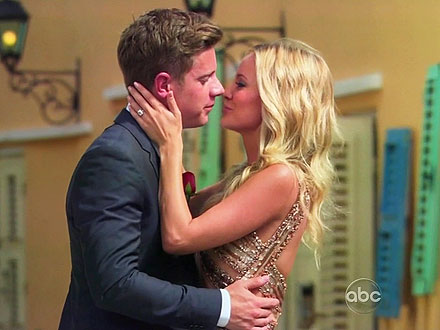 Emily Maynard and Jef Holm have split. The "Bachelorette" couple have split on the show's finale.
Emily & Jef split just three months after their engagement. They each have released a statement (below) confirming this.
The couple announced the news on Tuesday night.
In a lengthy statement (below) to People, Maynard says, "I am sorry to tell you that Jef and I have, indeed, parted ways. It was a very difficult and heartbreaking decision."
In his own statement (also below), Holm says, "What we shared was completely genuine and real and it breaks my heart but we have decided to break up."
The pair had endured speculation about their romance being just for show ever since Holm's brother claimed the entrepreneur caught Maynard sending explicit texts messages to another man.
Maynard was previously engaged to "Bachelor" Brad Womack, from whom she split in 2011.
EMILY MAYNARD STATEMENT
"I am sorry to tell you that Jef and I have, indeed, parted ways. It was a very difficult and heartbreaking decision.

"As you know, at first I wasn't sure that I should even be 'The Bachelorette,' but I am a hopeless romantic and I do believe in the show. I have no regrets because I did find love and shared an incredible journey with a really special person – and you know what, we tried our best because the love between us was so real.

"I have nothing but respect and love for Jef and his family, but ultimately we are just at different points in our lives.

"I've learned so much and I'm grateful for all of the support I've received. I'm excited and hopeful for the next chapter in my life with my daughter, Ricki. I do hope that you will respect our privacy and allow us the time we need to heal."
JEF HOLM STATEMENT
"Meeting Emily on 'The Bachelorette' was an incredible experience, we've had quite the journey. I've never loved someone so much in my whole life, Emily is the best person and mom I have ever met. She opened up her world to me and I fell in love with her, [her daughter] Ricki, her family and the Hendricks.

"She has a great group of people who surround her. What we shared was completely genuine and real and it breaks my heart but we have decided to break up.

"Emily will always have a special place in my heart. I don't regret a single second I spent with her or Ricki. They both have been a huge part of my life. Who knows what tomorrow will bring but we are moving on to the next chapter of our lives.

"Emily and I are great friends and I hope we can continue to be friends forever. Everyone wants a salacious story to break, but the truth is we are just two people who fell in love and tried our hardest to make it work. I will always love her."