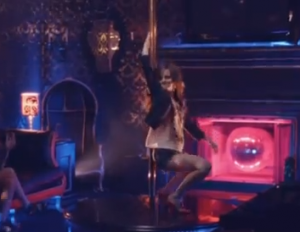 Emma Watson was known to be taking Pole Dancing classes some time back while we all thought it was to please her boyfriend, it was out it was all business as usual. Emma Watson is seen pole dancing in a new teaser for The Bling Ring.
Emma Watson is pretty good at pole dancing judging from the teaser, though we didn't get a chance to see it fully.
In the clip, Watson's character and her pals raid an unknown celebrity's closet before getting down in the starlet's "nightclub room."
The movie is based on the real-life group of privileged teens who broke into celebrity homes — including those of Paris Hilton, Orlando Bloom, Rachel Bilson and Lindsay Lohan — and stole jewelry, clothing and more.
Watch Emma Watson pole dancing scene below: