Emma Watson is working real hard to shake-off her good girl image. Now, she is taking pole-dancing classes, hmmm, just to get fit. That doesn't seem like a valid reason.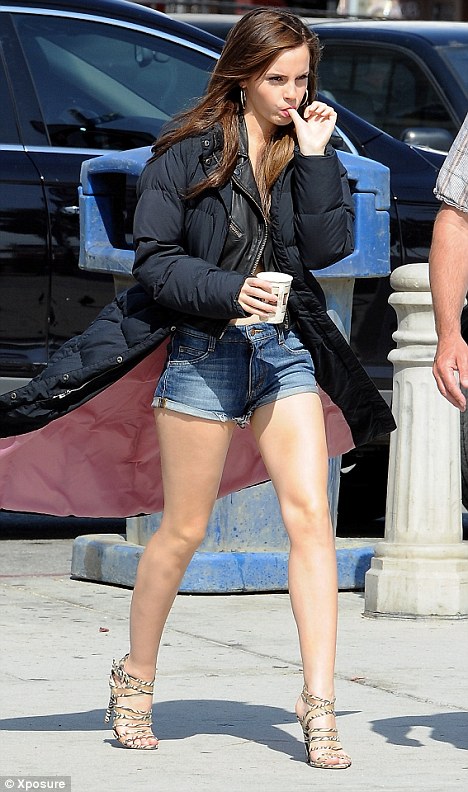 Her boyfriend Will Adamovicz sure is going to be very pleased about her new interests.
A co-star on new movie The Bling Ring is said to have encouraged Emma.
A source told The Sun: 'One of the other actresses on the set has been pole-dancing as a sport for a while and Emma decided to give it a go.
'She's amazed with the results because it has toned up her body so well.'
The insider also said Emma was thrilled with how 'liberating' it is.
Emma has been attempting to shrug off her Harry Potter stereotype for a while, stunning fans with her sudden transformation on set last month.
The Burberry model was spotted on a number of occasions in tiny denim hotpants, killer heels and with long brunette hair.
But yesterday, Emma was back to her old self running errands in London.
The pretty actress went low-key and comfortable – a far cry from her sexy character Nicki – in jeans, flat boots and a knitted cardigan.
The always-stylish star wore a Peter Pan-collar grey and white top and completed the look with warm scarf.
Emma is back home after spending weeks shooting The Bling Ring in LA.
It is the real-life story of a gang of teens who robbed the homes of a host of celebrities including Paris Hilton, Orlando Bloom and Lindsay Lohan.
Emma stars alongside Kirsten Dunst, Leslie Mann and Gavin Rossdale.
Her character prefers a far flashier look than Emma, with costumes including stiletto heels, pink velour tracksuits and midriff tops.
Emma gave fans an insight into her onscreen preferences, tweeting: 'Nicki likes Lip Gloss, Purses, Yoga, Pole Dancing, Uggs, Louboutins, Juice Cleanses, Iced coffee and Tattoos.'
The film, directed by Sofia Coppola, is due for release next year.
She is also filming comedy The End Of The World alongside Seth Rogan, Jonah Hill, James Franco and a host of other big names.
The film is a parody which sees the stars play themselves and facing The Apocalypse while attending a party at James Franco's house.