Actor George Clooney has been arrested outside the Sudanese embassy in Washington D.C. He was out there protesting against the Sudanese leader Omar al-Bashir along with his father. Video footage shows him smiling as he was taken into custody.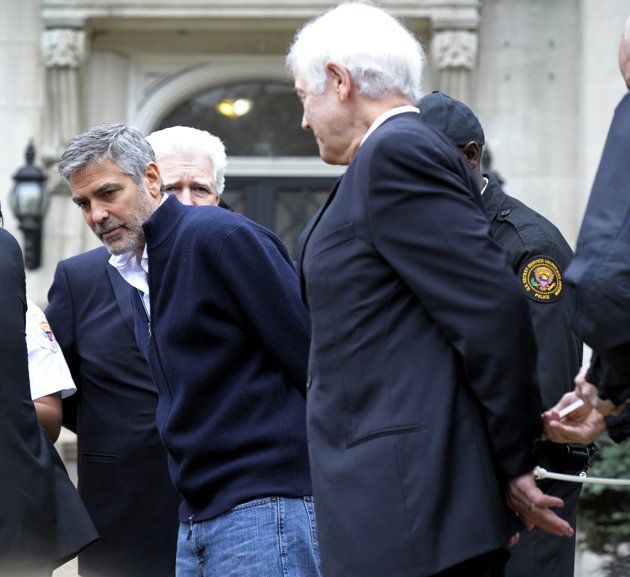 Along with George Clooney U.S. Rep. Jim Moran (D-Va.), Rep Jim McGovern (D-Mass.), former Rep. Tom Andrews (D-Mass.), Martin Luther King III and NAACP president Ben Jealous were also arrested.
The group had planned the protest to draw attention to Sudanese leader Omar al-Bashir's rocket attacks on his people in Nuba Mountain region.
"[We want] the (Sudanese) government in Khartoum to stop randomly killing its own innocent men, women and children," Clooney said before being led away with the others in a Secret Service van. "Stop raping them, and stop starving them."
Clooney testified in front of the Senate Foreign Relations Committee on Wednesday about the Sudanese government's bombing and violence against civilians near its border with South Sudan.
"I want to separate what is fact and what is fiction," Clooney, who just returned from an eight-day trip to Sudan with human-rights activist John Prendergast, told the committee. "The government of Sudan, led by Omar al-Bashir, Ahmed Haroun and defense minister Hussein, the same three men who orchestrated the atrocities in Darfur, have turned their bombs on the Nuban people. Now, these are not military targets. These are innocent men, women and children. That is a fact."
"When we got there," Clooney said, "we found children filled with shrapnel, including a nine-year-old boy who had both of his hands blown off."
On Thursday, Clooney met with reporters outside of the White House.
"There is a very, very great possibility of a lot of people starving to death in the next few months if we don't act soon finding some way to get the government of Khartoum to open up some form of a humanitarian corridor," he warned. "Obviously that's not something that we do unilaterally—it will have to be done with the help of many different countries."
And despite Clooney's trip to Washington this week, he downplayed talk of a post-acting political career.
"I don't find that I would be much help in any other position than the one I am in," he said. "I don't make policy. All I can really do is amplify the situation and hope to bring a spotlight to it so that we're talking about it for at least a brief period of time."
Clooney added: "Anytime you're making the names of people who are charged for war crimes famous, I think that's good. I think the name Omar al-Bashir should be famous. I think people should know it."