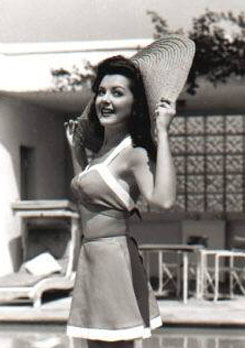 Ann Rutherford, the demure brunette actress who played the sweetheart in the long-running Andy Hardy series and Scarlett O'Hara's youngest sister in "Gone With the Wind," has died. She was 94.
A close friend, Anne Jeffreys, said she was at Rutherford's side when the actress died Monday evening at home in Beverly Hills. Rutherford died of heart problems and had been ill for several months, Jeffreys said.
Rutherford's death was first reported by the Los Angeles Times (http://lat.ms/MEPubi ).
"She was a dear person, a very funny lady, wonderful heart, was always trying to do things for people," said Jeffreys, a leading lady of many films of the 1940s and a star of the 1950s TV sitcom "Topper."
Rutherford was a frequent guest at "Gone With the Wind" celebrations in Georgia and, as one of the few remaining actors from the movie, continued to attract fans from around the world, Jeffreys said.
"She loved it. It really stimulated the last years of her life, because she got thousands of emails from fans," Jeffreys said. "She was in great demand."
She was also known for the Andy Hardy series, a hugely popular string of comical, sentimental films, that starred Lewis Stone as a small-town judge and Mickey Rooney as his spirited teenage son.
Rutherford was born in 1917, according to the voter records reviewed by The Associated Press. Some sources give other dates. The daughter of an opera tenor and an actress, she began performing on the stage as a child.
She launched her movie career in Westerns while still in her teens, often appearing with singing cowboy hero Gene Autry and sometimes with John Wayne.
She joined MGM in 1937, playing a variety of roles for several years before leaving the studio to freelance.